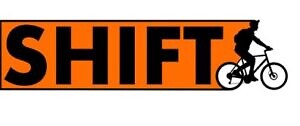 In 2017 Aquabio set up the SHIFT scheme (Sustainability and Health in Future Transport). The initial aim of the scheme was to encourage Aquabio employees to ditch the car, and make more journeys by bicycle. A number of employees lived within 10 miles of the office, so a commute by bicycle was possible, and it was interesting to see if the encouragement offered by SHIFT could nudge individuals to choosing alternative modes of transport. The website and mobile app Strava was used to keep track of the cumulative distance travelled by all employees.
For every kilometre cycled by employees Aquabio donate 2.5 pence to charity, with the aim to further improve cycling infrastructure and encourage others to choose less polluting modes of transport. Journeys are not limited to commutes to work; any journey by an employee by bike contributes to the annual total, further incentivising active travel for everyday trips.
The scheme has had a positive impact on the business with regard to transport choices, notably to our construction sites. It is now commonplace for employees to take bikes with them during site installation and commissioning activities, replacing journeys from their accommodation to the site with a trip by bicycle.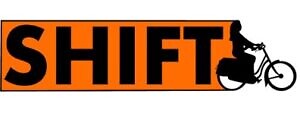 There are a number of benefits to the scheme, and a number of beneficiaries. Employees are taking regular exercise, with well documented improvements to both physical and mental health, as well as the effort being rewarded with the company providing a charitable donation to a nominated charity every year.
Society benefits from improved local air quality due to a removal of vehicle emissions for those journeys, and the equivalent reduction in carbon emissions. The Company is rewarded with happier and healthier employees, a strengthening of internal relationships through team building, and a reference for environmental improvements and corporate social responsibility.
The scheme is an excellent demonstration of how individual actions, however small, working as part of a collective endeavour can have a notable impact. Feel free to share the story beyond the shores of Aquabio, and perhaps we can inspire others in a similar fashion. Every journey, no matter how small, will contribute to the team effort.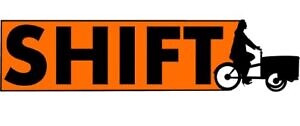 Current Stats:
32 individuals contributed to the annual total in 2022.
Over 350,000 ridden km to date, equivalent of approx. 41,300 kg CO2 if the journeys had been made by car (118 gCO2/km), with a total donation of £7,180.
Aquabio also supports the Cycle to Work Scheme, where bikes and accessories can be provided by the Company through a salary sacrifice, providing a saving through tax on the equipment.

Recipients of the donations to date have been Sustrans, Cycling UK, Bike Worcester, Cycling Evesham Vale, Cycle Malvern, and most recently the Worcester – Bromyard – Leominster Greenway Project.
The donations to local cycling advocacy group Bike Worcester have supported the implementation of Bike Buses to local primary schools, a bike repair and recycling scheme, Kidical Mass bike rides, in addition to their ongoing work enabling and encouraging more people to choose a bike as a regular mode of transport.

Aquabio are continuing to spread the word about the SHIFT scheme, with a number of local employers in Worcester now taking part.