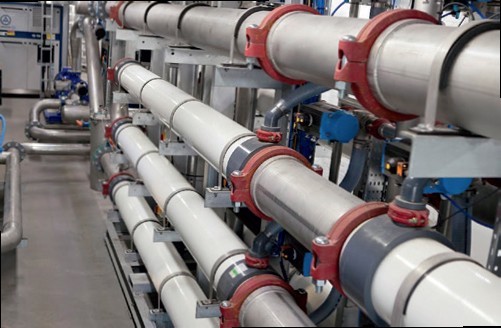 Client
Shepherd Neame is an English regional brewery founded in 1698 in Faversham, Kent. It is the oldest brewer in Great Britain and has been family-owned since 1864. Shepherd Neame produces a range of cask ales and filtered beers.
Project requirements
Wastewater treatment prior to sewer / watercourse discharge and recycling of water to the prescribed concentration values of the current UK water supply regulations.
Solution
Complete turnkey solution:
Built into an existing building, low energy AMBR LE ™ with slot aeration, ultra-filtration, reverse osmosis membranes and UV disinfection.
Totally automated, with our standard software and remote access for plant monitoring.
PLANT PERFORMANCE
Volume for AMBR LE ™ Treatment
700 m3/ day
Volume of RO Permeate
300 m3/ day
Design COD Load
3,186 kg / day
BOD from AMBR LE ™
< 10 mg / l
TSS from AMBR LE ™
< 10 mg / l
RO Permeate / UV
Suitable for reuse
BENEFITS FOR THE CUSTOMER
Lower mains water consumption and wastewater discharge to sensitive watercourse
Wastewater discharge cost saving to sewer – significantly lower volume and concentrations
Short payback period for the investment
Space saving construction in existing buildings
Consistent high grade water quality for reuse in the factory
Low energy consumption, flexible operation & energy management