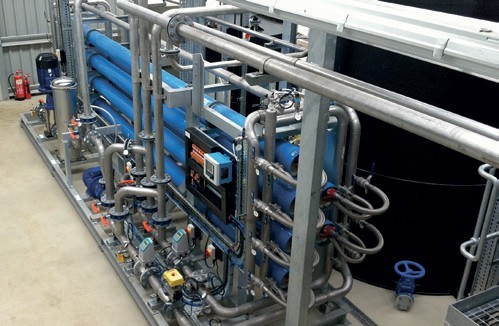 Client
Bairds Malt is a major UK maltster with a total annual production capacity of 255,000 tonnes. As a supplier of high quality malt products to all sectors of the brewing and distilling industries across the globe, Bairds Malt draw on many years experience and strive to provide complete customer satisfaction.
Project requirements
Reuse of water at a suitable quality to prevent inhibition of germination in the steep and to the prescribed concentration values of the current UK water supply regulations.
Solution
Complete turnkey solution:
Inlet screening, MBR tank with AMBR LE ™ and JETOX™  aeration, ultrafiltration and reverse osmosis membranes, UV disinfection and sludge treatment.
Totally automated, with our own software and remote  access for plant monitoring.
| PLANT PERFORMANCE | |
| --- | --- |
| Volume for AMBR LE ™ Treatment | 658 m3/ day |
| Volume of RO Permeate | 490 m3/ day |
| BOD from AMBR LE ™ | < 5 mg / l |
| TSS from AMBR LE ™ | < 5 mg / l |
| RO Permeate | Suitable for reuse in steeping |
BENEFITS FOR THE CUSTOMER
Consistent high grade water quality for steeping
Wastewater discharge saving cost to sewer – significantly lower volume and concentrations
Environmental benefits of reduced "water footprint"

Low energy consumption, flexible operation & energy management
Short payback period for the investment
Enhanced corporate social responsibility profile